Learn About Window Treatments
Your window treatments serve many important purposes and suffice it to say, they're far more than simple coverings for one's windows. The right window treatment can truly make a difference in your long-term energy costs, while protecting your family's privacy. It can also extend the overall life span of your new floor, since it can protect against sun damage and color-fading. Today's world of window coverings offers many different options to accentuate and protect. From curtains and sheers, to shades and blinds, you'll find it all right here. Not sure where to begin? Not to worry: our interior design experts can help you navigate the world of window treatments.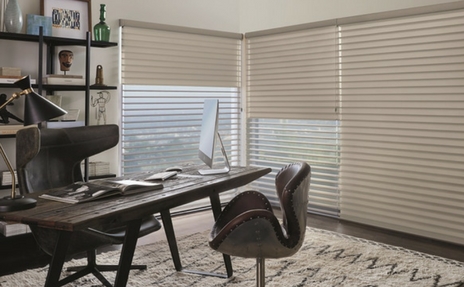 About Window Treatments
Here's a quick overview on the different types of window treatments you'll encounter in our showrooms.
Blinds – Filtering the light from the outdoors, while ensuring some things are kept private, blinds are an extremely popular window covering. Blinds area available in many different materials, including plastic, metal, and wood: all are generally easy to maintain.
Shades – Designed to please those who like a darker room, shades can also be used to control your inner temperatures. Guaranteeing full privacy, shades are a great option for bedrooms, bathrooms, and apartment living.
Draperies – Also known as curtains, drapes are available in a plethora of different styles. Drapes can be used in conjunction with blinds or shades, or make a solo appearance.
Our Window Treatment Selection
At Carpet One Floor & Home of La Grande, Enterprise, and Baker City, OR, we're your favorite destination for window coverings. As your local source for top brands such as Hunter Douglas, Graber, and Comfortex, we can help you navigate all the different options based on your budget, your style sense, and your functional requirements. With everything from motorized blind systems to customized window dressing dimensions, shopping for "curtains" has never been so exciting…and we make it easy.
Comfortex: A leading producer of customizable window treatments, Comfortex products span a full spectrum of beautiful products, including cellular and roller shades, wooden blinds, draperies, and other stunning selections.
At Carpet One Floor & Home, we are proud to provide window treatments to all of North Eastern Oregon, Union, Baker and Wallowa counties.
Hunter Douglas

These high-quality, high-function window treatments offer

innovative solutions for modern life. Hunter Douglas is a leader

in top quality blinds, shades, and curtains that aren't only high

on style; they're also aimed to offer up some serious solutions.

Graber

Offering up innovative blinds and shades

to accentuate your living space, Graber products

emphasize modern convenience, including motorized

solutions that are high on style while offering endless convenience